Bouillabaisse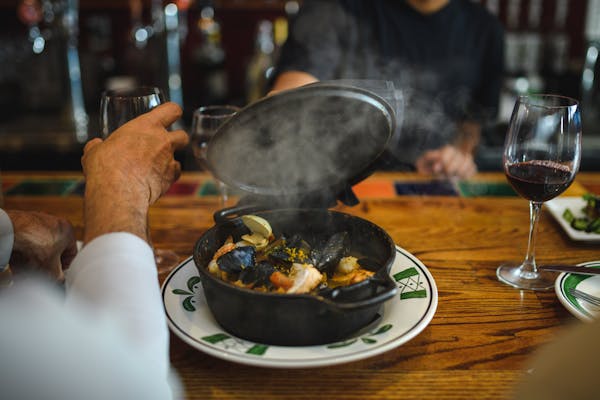 While we are known for often changing up our menu for all things seasonal, the classics are not to be ignored. At Bistro on Main, there are a few dishes on our menu that we consider French "classics." Like nostalgia, when these dishes are eaten time and time again, we are comforted and reminded that although new is good, the classics can feel like home. This week, we're focusing on the classic French Bouillabaisse.
Our Bouillabaisse, or fisherman's stew, is near and dear to our heart not only because it is a familiar food, but because we are able to partner with Red's Best Seafood and other local producers for the ingredients. Keeping things local when possible allows us to maintain our philosophy that community is important, and that we need to continue to contribute to this circle that is our community.
Now, for a little Bouillabaisse history lesson. Bouillabaisse is a traditional fish stew that originates from the city of Marseille, France. The stew was originally created because Rockfish was difficult to sell in markets, and so local fishermen mixed the fish with herbs, spices, and different kinds of fish to create a unique, tasty fish stew. We use scrod, monkfish, mussels, clams, lobster, and shrimp to make our Bouillabaisse at Bistro on Main.
It's important to use bony fish and traditional herbs to make an authentic Bouillabaisse, and we use the delicate flavor of saffron in our broth to highlight these characteristics. Legend has it that as this fish grew in popularity among local fishermen, who utilized the fish that was too bony to sell at markets, the upper class caught on and eventually Bouillabaisse was served in restaurants and hotels. Bouillabaisse spread from Marseille to Paris, and then eventually to the rest of the world.
The name comes from the method. The stew is not cooked all at once. Instead, the broth is first boiled, and the different types of fish are added one by one until the heat is finally lowered. Now that you're a Bouillabaisse expert, we invite you to come try it out for yourself. Served with grilled baguette, this hearty stew is the perfect transition from summer to fall. Happy eating!