Chef Notes: Spring Menu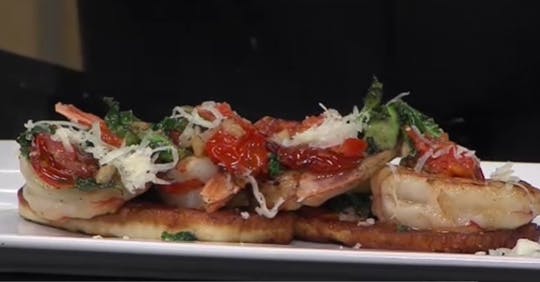 We have just rolled out our Spring Menu at Bistro on Main, so I thought I would share with you some of the highlights and thinking that goes into a new menu. You can see our new menu here.
EMPHASIS ON SPRING. Asparagus, artichokes, bright notes, lighter dishes. You will also start seeing specials featuring early spring local produce -- scapes, fiddleheads, local asparagus, etc.
LUNCH & DINNER - SAME MENU! We now have one menu for both lunch and dinner. We recognize that sometimes people like a bigger lunch entree and a sandwich for dinner. Sometimes a leisurely lunch and a quick dinner. Sometimes your are spending and celebrating, other times you need a quick bite before a movie or after a school concert. So we have combined our menus so you can order how you want what you want.
FULL & DEMI PORTIONS. When possible, we now offer regular full portions as well as "demi" half portions on our entrees. Again, sometimes you want to eat less or enjoy a 4-course meal, and a smaller entree makes sense. This also allows for different price points when you come in.
MORE PLANT-BASED OPTIONS. We have intentionally added a number of new plant-based options to the menu in every category -- appetizers, entrees, salads, sandwiches and entrees. We have also added Impossible Meat to our menu -- if you are not familiar with it, check it out here.
RAW BAR IS BACK! Oysters, clams, shrimp cocktail -- and all available as BOGO's during Happy Hour too! (Buy one, Get one)
SOURCING. We continue to source fresh, local and sustainable produce, meats, fish, dairy and artisan products. We are always looking to source the highest quality and "cleanest" ingredients we can get our hands on. As the season progresses, you see even more local farms and products too!
SESSIONABLES. On our cocktail menu, in addition to new Spring cocktails and classics, as well as mocktails, we have what we call "sessionable" cocktails. These drinks have a lower ABV (alcohol by volume) percentage which means you can enjoy a crafted cocktail with less alcohol.
ALL THAT JAZZ. We believe that brunch should be fun! Check out our new New Orleans-inspired (French influenced) Jazz Brunch Menu on both Saturday & Sunday!
WHAT HASN'T CHANGED? Our commitment to quality, fun, fresh and totally non-pretentious food!
Also check out our BEVERAGE MENU for new Spring cocktails, and expanded wine list, and a growing list of low-alcohol and non-alcoholic offerings!