French Advent Traditions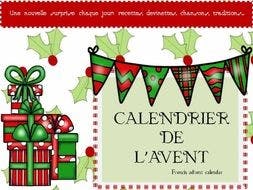 In France, the first four weeks of December are dedicated to the tradition of "Advent." If you haven't heard of this tradition before, it's technically a time of waiting and preparing for Christmas. Whether you celebrate Christmas or not, we hope that this article will serve to educate and inspire your holiday traditions this year.
The word "Advent" is derived from the Latin, "adventus" meaning "coming." In Europe, the coming of winter usually means the coming of shorter days and colder nights, but also the coming of the Christmas holiday. Advent represents the hope of Christmas in these darker months, and makes the transition into winter a more bright and exciting time, full of light.
Children and adults alike participate in this tradition. You may have heard of an Advent calendar, or even used one yourself during the holiday season. An Advent calendar is a way to mark the four weeks leading up to Christmas. Usually, you open a little door on the calendar to find a sweet treat or note. For a child, this makes the lead up to Christmas even more exciting and rewarding. For adults, wreaths are lit in Churches once a week during the time of Advent, which makes for a beautiful and warming display.
In many regions of France, Advent is celebrated through different events. In certain regions, the Celebration of Saint Nicholas takes place on December 6th. This celebration consists of parades, fireworks, and large gatherings of people young and old. In Lyon, France, the Festival of Lights is a large event which consists of the illumination of monuments, hills, and rivers for a period of four days. In Paris, a major avenue is lit up at the start of the Advent month.
During the period of Advent, illumination is abundant, shopping is hectic, and everyone is preparing for Christmas Day. The tradition of Advent is primarily a European one, but some Advent traditions like Advent Calendars can be seen in grocery stores in the United States. So, tell us: how do you prepare for the holiday season?