Meet Amarelis!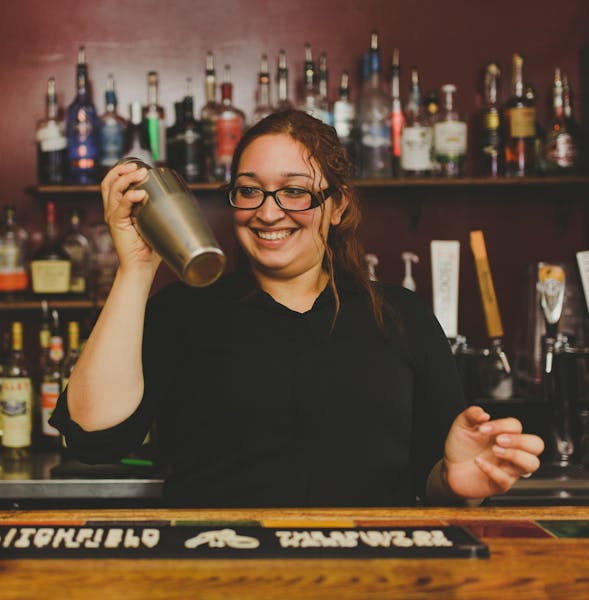 One in a continuing series on "Meeting our Staff"...
MARY: Amarelis has been on the Bistro team since April. She came in with fresh eyes and ideas. She was brand new to this sometimes "cut throat" industry. The first few shifts that Amarelis worked started out a bit concerning. She was shy. The opposite of a bartenders personality. For a short time I was concerned, and wondered "Can she make it? Does she want to be a bartender?" I think we may have had an honest conversation where some of those words were tossed out in the air. The next shift it was like night and day. I don't know if she went home and pepped talked herself or what but one day after a few weeks of training and pushing comfort levels, I looked over at the bar and Amarelis was a true bartender. Providing great service while also pushing out consistently delicious cocktails.
Amarelis is a motivated, caring individual who really has blossomed here with us. She has a long journey ahead as many of us do who are new to the bartending scene in CT, but I am fully confident that what she brings to the table for us here, will not be the end for her.
Before we dive into your experience here at Bistro on Main, can you tell us a little about yourself and your journey that has brought you here?
I have two kids, I'm also married. Prior to working here I had never worked in this industry. Most of my experience is in retail. I wanted to get into this field so I applied to a couple places but because I didn't have experience, it made searching for a bartending job nearly impossible.
What about bartending inspires you?
I enjoy watching you [Mary] experiment with the different styles of cocktails. The use of different spirits and how they are all so different is inspiring. I have been getting more and more into mixology when it comes to understanding flavors and balance; it's exciting!
Working together to create drinks is how I learn best.
What are you excited about moving into the spring menu/flavors? Are there any that you are particularly interested in?
[MARY: For a little context, Amarelis is my go to when it comes to morning prep, inventory delegation and for bouncing ideas off of. She always listens really well and although her palate is fresh and new, she has come so far from day 1. For spring menu we have been playing with some Umami flavors, balancing that flavor profile with sodium and using ingredients like clam juice to bring that element to a cocktail, even though it seems really strange. While we play with different ingredients in the kitchen, she is very engaged, I can tell the cooking and science intrigues her.]
I am excited to learn about the different types of drinks that you have in your mind for the spring menu, the styles of the cocktails and seeing different "stuff" being created from things I wouldn't expect.
I try and stay curious; "I want to get as much knowledge as I can!"
When you aren't here at Bistro on Main what are some hobbies or things you enjoy doing in your spare time?
Hanging out with my kids. I try and take them to fun places. It's hard in the winter but we go to Chuck-E-Cheese but in the summer we enjoy playing at the parks, going for walks, and just enjoying family time.
Coming into this job/program what were your biggest fears and do you feel like you have made progress conquering those fears?
I was really nervous about the menu and to hold a conversation with people...I definitely have conquered that. Just messing up in general, but I guess I've done that a million times now...
What lessons will you take away from this experience that will help you be successful in the future?
Time management skills behind the bar, learning how to balance cocktails...I've become a bartender here.
Tell me about a memorable shift you've worked and why it stands out to you
My second shift was with Anthony (our lead bartender) on a Thursday night and I left horrified. He had a full bar and I didnt know how to help him and he was in his zone. He kept correcting me, which was helpful, but everything was very overwhelming at first. I remember twiddling my fingers at one point, and was like "omg I have to do this on my own…" I went to my car and almost cried and called my husband for support. I had crazy anxiety. Looking back on that day now; it showed me what to look forward to, and working with Anthony helped because he is super knowledgeable and he pushes you. If he tells you something at the beginning of the shift, you bet you'll know it by the end of your shift."
Where do you hope to be in five years?
I'd like to be in the industry. Maybe in management? I want to continue to gain experience in this industry and see where it takes me.