Meet Anthony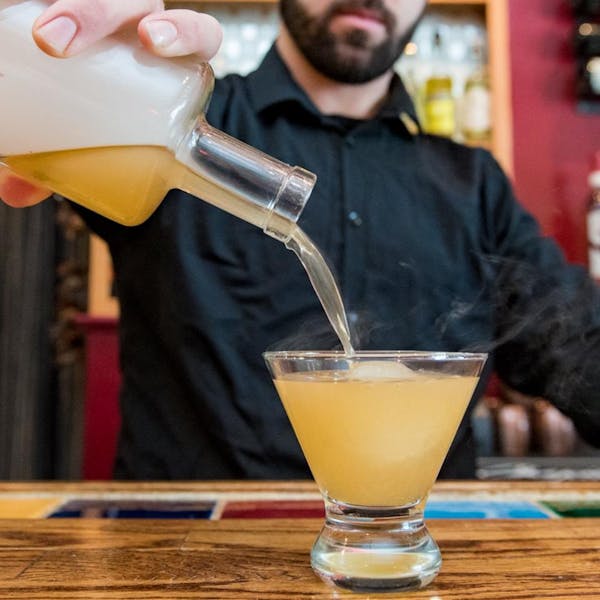 One in a continuing series on "meeting our staff"...
He's the man with the beard, the myth of Bistro on Main who serves you some of your favorite cocktails behind our intimate bar, the legend behind our signature Fat Duck. Anthony has been part of our team since we opened last November. After showing us his skills both behind the bar and as a leader we decided that it was a wise idea to have him as our primary lead bartender. Anthony has 8 years of bartending experience under his belt. He has traveled the country and spent some time living under the Hawaiian sun. Anthony is a great example of using hospitality as a means to travel. This industry can bring you to some amazing places. Next time you come in, say hi to Anthony behind our bar. Enjoy a deliciously juicy sangria, or try one of his signature Fat Duck cocktails. He is sure to impress you with the aromas and friendly banter.

Anthony is one of our team who did not go through our program -- instead, he was looking for a part time and fell in love with our mission and concept. - Mary Q
Before we dive into the details of your experience here, can you tell us a little about yourself and what lead you to our doors?
I recently moved back to Connecticut in order to save money and go back to college. I have worked in sales, construction, the scuba industry, but i continue to find myself coming back to bartending. I started in the bar industry at 18 as a barback in a busy nightclub in hartford. I was surrounded by some very talented bartenders and little by little learned the basics of bartending. Bartending has its ups and downs like anything, but it has provided me the opportunities to travel, meet some incredible people, and make lasting memories. I found this position on craigslist and i was really intrigued by the concept of a restaurant with a purpose. I have seen many people in this industry suffer with substance abuse and mental health issues, and the concept of a restaurant that does its part to fix those issues really excited me.
What has your experience been like being a lead bartender here at Bistro on Main?
This restaurant has been one of the smoothest restaurants I've worked at, and considering many of the employee's have little to no restaurant experience it has truly surprised me. The whole restaurant works as a team and i think that the non-tipping concept has made all the difference. The management is supportive and open to ideas. It has been refreshing to have their support and encouragement to explore my creativity.
What have been your biggest struggles?
Lately my biggest struggles have been time management issues. Balancing a full time school schedule, home work, clinical rotations, two jobs and a personal life has been difficult, but the support and encouragement of the Bistro team is really made a stressful time in my life enjoyable.
Do you have any training moments that stand out to you, negative or positive?
I have been very proud of our two additions to the bar team. Both Ian and Amarelis have surprised me with just how quickly they have learned and how willing they have been to improve. Considering neither of them have had experience in food industry prior to this job they have really impressed me. Ian taking the initiative to research and explore new cocktails, and Amarelis's incredible ability to memorize pretty much everything I teach her in one shot has really made training easy and enjoyable.
Let's face the elephant in the room; people have been skeptical about the no tipping concept. How do you feel about it now that you are almost a year in?
I liked the concept, but was sceptical myself of how it would work. When you rely on tips you never know what to expect, you could have a slow shift and make next to nothing, or you could be busy all night and make a few hundred dollars. Overall the non-tipping has taken a lot of the stress out of job. I know what to expect out of my shift, and the workload is balanced between the entire wait team.
Our focus generally is helping people with barriers to employment gain the the skills to start a career. What have you learned working side-by-side with some of the people who have come through the MACC program?
In my time here I've come to realize that everyone is fighting their own battles, and has really put my personal struggles in perspective. I have a huge sense of respect for my coworkers who are able to come in to work with a genuine smile on their face and continually stay positive throughout the most demanding shifts. It is a valuable skill in life let alone a career, a trait that is not easy to teach but is found in abundance here at the Bistro.