Meet Michell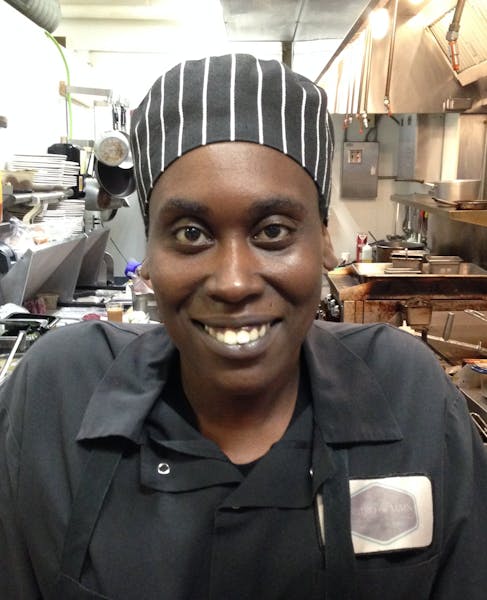 One of a continuing series, introducing our staff at Bistro on Main.
---
MARY: There is a very particular poise and grace that Michell radiates. She is a true professional as one of our strongest line cooks. Michell graduated from the MACCchefs Culinary Program. She has grown with Bistro on Main since we opened in November. She rocks saute station for most brunch and lunch shifts. That superb French Onion Soup, that's her. During this conversation I was fortunate enough to have with Michell, she opened up about some of the most trying times in her life. Her battle isn't over but she stays genuinely positive and perseveres through her own body's resistance. Michell is an example of a resilient powerful woman who shows her passion for food and family, can and will conquer all barriers.
Can you tell us a little about yourself and your journey that has brought you here?
I first saw the flyer for the MACCchefs Culinary Program while I was attending Sawyer Butler Business School in Bridgeport. At the time, I overlooked the flyer because I was studying business management and was only four weeks away from graduating when they closed. That was very frustrating because I was so close and needed to find a job using my degree. I was a stay at home mom but I saw the stress my husband was going through and wanted to help. My friend tagged me on social media when she saw the MACCchefs Culinary Program. So I said, "Okay God! I get it!" I got in contact with Chef Diana, did an interview and application, and I was in; it all happened really fast.
When you aren't here at Bistro on Main what are some hobbies or things you enjoy doing in your spare time?
I braid hair...a lot. I do everything except cut hair, go get it professionally cut because if I do it, you'll end up with a messed up head! In any other free time I have, I spend it with my kids because they're growing so fast.
What kind of barriers to employment have you faced?
I hadn't worked in so long and I have delayed memory so it is hard to remember things. I told myself, "This will be a big struggle for you, but you have to fight through it." I always thought "HA I'm going to show you!" I was a stay at home mom, I got married in August then that January I was diagnosed with brain cancer. I had pressure on my brain that was causing me to lose my eyesight. The surgeon gave me two options; take these pills, receive treatment and fight; or sit around and wait to lose my vision.
I have kids at all different ages and I have so much more to live for. I was not going to give up.
I didn't care what would happen if I took the risk of getting treated. I just knew I needed my sight.
I knew that if I could fight this and live, then work, at least I could get here and THEN lose my eyesight, at least I could say I did it and have others take over because, hey i can't see!
Coming into this job/program what were your biggest fears and do you feel like you have made progress conquering those fears?
Not being able to keep up mentally. I kinda live in pain, but once I get the adrenaline rush, I don't feel it as much. Once a busy service is all said and done, I sit down and I'm like...oh my back hurts!
Being here and interacting with people and seeing people enjoy the food I cook keeps me going. I keep being given a second chance so I'm just going to keep going with it.
Tell me about a memorable shift you've worked and why it stands out to you
That's a tough one! I can't think of one shift because I've learned so much. When we first came in here it was just an old gross building and we've made it something more. I feel like Bistro on Main has rounded out my culinary skills.
Where do you hope to be in five years?
The big four-o! I wanna be lookin' bad sitting at the bar at my own restaurant.