Meet Tyler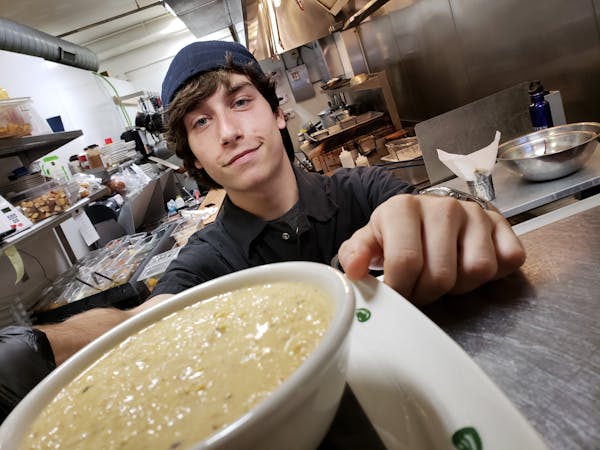 The next post in our continuing series of "meet our staff"...
"At Bistro on Main, our mission is all about developing talent. Our people are our mission and if we do our jobs right, the results will be great service and great food for our guests. But it all starts with our people." - Chef Ben
---
"If you have a passion you shouldn't ignore it. Some people never become what they want to be and if you're good at something, then spend the time to make it happen." - Tyler M (MACCchefs Program & Line Cook at Bistro on Main)
---
MARY (Bistro on Main manager):
Those are some big thoughts for 20 year old Tyler who joined our team this past winter. He is young, eager to learn and naturally talented. It's a joke around the kitchen that Tyler will taste ANYTHING. Sometimes the not so pretty side of being a line cook is investigating product that may have spoiled. Tyler has no fear in the kitchen, he dives right into whatever the day brings. Tyler proudly arrives after walking to work everyday, with his professional knife bag and Nikon camera to catch some shots after his shift.
Tyler graduated from the MACC Culinary Program this past spring and plans to attend MCC in the near future to pursue his culinary dreams. Tyler has become one of our strongest line cooks within just a few months. We are all looking forward to seeing some great things from him in the future.
Can you tell us a little about yourself and your journey that has brought you here?
It's complicated... I didn't really have many hobbies growing up and I wasn't really good at doing much so I got involved in working with food. Before all that, I was a dish guy at a local breakfast spot but the boss was stuck in his own ways and didn't want to teach anyone new positions, so I left that job and went to 21 Oak. That was my first hands on experience. I learned a lot about raw foods and about how to use them to make smoothies at Vitality Juice Bar. I didn't know about Bistro on Main but the Chef at 21 oak knows Chef Ben, and told him that I had potential and that's when I came here.
When you aren't here at Bistro on Main what are some hobbies or things you enjoy doing in your spare time?
Photography. I draw, I write music, I used to tattoo... I just like to create stuff; food, pictures, drawings.
What kind of barriers to employment have you faced? When I was 16 I was working under the table. Many barriers in my life have been from past managers, where I wanted to learn more but was not given the chance. I experienced more barriers with school too. I grew up in Manchester but my family didn't have much money and we lived in a situation that most people have never experienced living with other families. I lived in this situation in Bloomfield for two years. I attended Bloomfield High for a short time but I faced racism there and was bullied so I stopped going. It was too difficult to manage transportation from Bloomfield to Manchester High (where I had attended previously) so I stopped going. When I turned 18, I took control by getting my own house to live in back in Manchester. I went back to school and earned my diploma this past spring.
Coming into this job/program what were your biggest fears and do you feel like you have made progress conquering those fears?
I think the biggest thing was having the pressure of a restaurant on your shoulders. You're coming to a place where great food is expected and when the plate goes out it needs to be that good. When it comes to food there's always the possibility of screwing up you can be a five star chef and still screw it up. You always need to be on your toes.
What lessons will you take away from this experience that will help you be successful in the future? I think that having a good mental mise en place is the key to having success in many ways. Cooking is one of the best life skills. You want to teach a kid not to cook waffles, but to cook something healthy. The way you cook says alot about who you are.
I love salads -- you can get pretty artsy with them. There are a lot of colors.
I also like the challenge of cooking a steak. It's hard. People expect their steaks to be a very particular way (rightfully so) and if you don't reach that expectation, it could ruin an experience. I feel like I've mastered that for the most part at this point, and that's a skill that will stay with me.
Tell me about a memorable shift you've worked and why it stands out to you... The afternoon a tuna salad went out and came back because I had forgotten something on the sandwich. That was the first time that food came back to the kitchen and I knew that it was my responsibility. There's always good stuff to remember but it's the bad stuff that sticks with you. I remember getting a comment card about a burger being cooked perfectly and in the card I was referred to as the chef… that was pretty cool haha
Where do you hope to be in five years?
In five years I'd like to be AT LEAST a sous chef. I'd like to have my degree and good enough salary to have a family. By the time I'm 30 I want a restaurant. I'm hoping to go to MCC to continue learning. My middle name is Marcell so I want to start a small place named after my last name and then something more high class with my middle name that is french focused.