French Christmas Cookies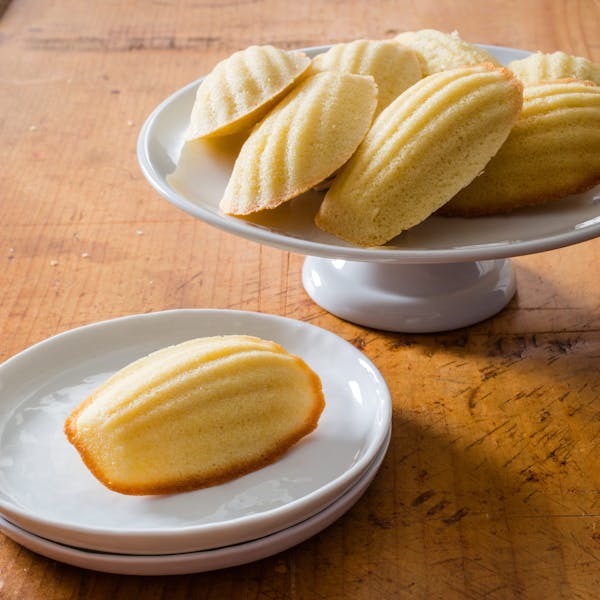 December can be one of the most enjoyable and stressful times of year. If you have a large family of extended relatives, purchasing gifts for everyone can be exhausting - and can drain your pocketbook. A universal gift we love to give is food. Everyone enjoys a Christmas cookie made with love in a beautiful red box, and it's an inexpensive way to show even the most distant relative that you're thinking of them.
For this installment of the blog, we're including a traditional French cookie recipe, the Madeleine. Madeleines are plump miniature sponge cakes with a semi-sweet but not overpowering taste. They look beautiful, and can be made even more festive with the addition of powdered sugar and a holly garnish. The Madeleine dates all the way back to King Louis XV, and it is said that its namesake comes from his mother in law's personal cook.
Madeleines can be a little technically tricky. While the dough is simple enough, pulling them out of the pan can be the tough bit. What makes them unique is their delicate fan shape and golden color, so we recommend greasing the pan thoroughly to properly extract the cookie. We've included a simple recipe below from The Spruce Eats. We hope you give it a try this holiday season, and as always - let us know how it goes!
"Ingredients
1/2 cup butter (melted)

2/3 cup sugar (granulated)

1 teaspoon vanilla extract

Optional: 1/2 teaspoon orange zest

3 large eggs

1 cup flour (all-purpose)

1/2 teaspoon baking powder

2 tablespoons confectioners' sugar
Steps to Make It
Gather the ingredients.

Cream the butter and granulated sugar in a stand mixer on high until it is light, fluffy and turning a pale color.

Add the vanilla extract and orange zest to the butter mixture. Turn the mixer to low speed and add the eggs, one at a time, scraping down the sides of the bowl with a spatula as needed. Do not rush this process or the mixture may curdle. Though this can be corrected with the addition of a little flour, it is best to avoid if you can.

Beat the mixture on medium-high for about 3 to 4 minutes, until the mixture has lightened in color and is very fluffy.

In a separate bowl, mix together the flour and baking powder. Very gently fold the flour and baking powder into the egg mixture using a spoon, not the stand mixer. Once the batter is smooth, cover it and transfer it to the refrigerator for 2 hours.

Preheat the oven to 375 F.

Generously grease 2 standard madeleine pans, do not skimp on this process as enough greasing now will prevent the cakes from sticking. Spoon the cold batter into the molds.
Bake them in the preheated oven for 10 to 13 minutes, until they are puffed and turn golden brown.

Invert the pans onto wire racks and give them a hard tap to remove the cookies from the molds. Leave them to cool but not cold. Serve them warm dusted with confectioners' sugar for the best flavor."
Full recipe can be found here:
https://www.thespruceeats.com/madeleines-recipe-1374963
Happy Holidays,
The Bistro on Main Family.
Photo Credit: America's Test Kitchen