Meet Kyle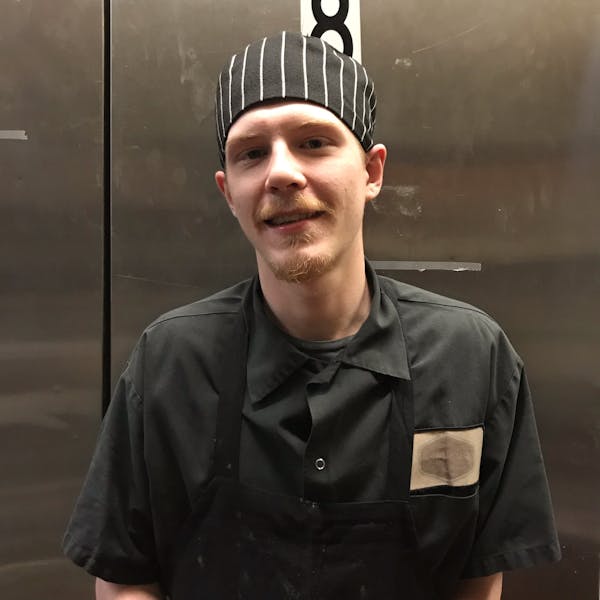 One in a continuing series of posts about our staff... MEET KYLE.
Kyle is one of the greenest students coming out of our MACC Chef's Culinary Program. He is a young Manchester local who, like many of our staff and students here, is taking life day by day to discover where exactly he wants to be in his life and career.
Kyle joined our crew through a recommendation from his friend Tyler, who we've all met through a prior "Meet the Staff". When Kyle first joined us as a student, he was in the category of students who challenges us as managers greatly because he was so new to everything culinary. It was hard for us to see a blooming future for Kyle as a line cook when we had a hard time teaching him simple knife skills. In our heads we were nervous for him because we weren't sure how to help him succeed. We just had to find his niche.
Kyle has been with us for over 6 months now and the progress that he has made is very encouraging for both us and him! He has progressed from dish room to having training shifts on grill (one of the most infamous stations on the line). With each small success Kyle surpasses expectations and continues to learn time management skills while also executing beautiful dishes.
For now, Kyle is your go-to dessert guy, as well as cold-apps guy. He holds down the garde manger station most nights. He is the one perfecting that whipped cream on the pot de creme. In fact, he mostly likely made that pot de creme! You won't see him on dessert station long! Stay tuned, he will be solo on the grill before we know it!
How did you hear about Bistro on Main? What interested you most about being in a kitchen cooking?
Tyler told me about his job here at Bistro and I was interested mostly because I was bored at my last job. I wanted to have a job that was more realistic. Not that I want to be here my whole life, but at least I have learned the skills to move on...I could still switch up my career but it's a start.
What kind of barriers to employment have you faced?
I don't know what I'm good at. I'm still figuring all that out so for me it has been hard to decide where I want to be and what I want to do.
When you aren't here at Bistro on Main what are some hobbies or things you enjoy doing in your spare time?
I haven't skateboarded in a while but I miss doing that. I like spending time outside and hanging out with my friends.
What lessons will you take away from this experience that will help you be successful in the future?
A lot! ...because I didn't know anything about the kitchen coming into this, I have learned a ton. I've also learned that a team in the kitchen is a lot different than teams in other places. In a kitchen, you really do need to work as a team. Someone will always struggle and it's up to everybody to help that person. In sports you can kind of be a star, but in the kitchen it's definitely about the team.
What has been the most challenging learning curve you have experienced here so far?
Being fast paced and learning to keep up with everything. I haven't gone too deep into cooking, I do a lot of prep and garde manger station. When you get lots of tickets all at once, it's hard to get used to, but you have to keep up.
Do you have a favorite or least favorite dish to make or prep?
When the prep list is long and items that need to be prepped, need prepping, it just seems like a lot but I like desserts because I have a focus and timed tickets.
Tell me about a memorable shift you've worked and why it stands out to you
New Years, that was my first night on desserts and we were doing a lot of new stuff that night so it was cool to make lobster pot pies and it was my first fast paced night and it was a really good memory but I remember that although I left happy, I also left tired.
Where do you see yourself in five years?
Where I would LIKE to be or realistically? Realistically...I still don't even know… I guess because you're asking, I would like to have fulfilling career by then so if I have to go to school or something that will have been planned out by then. Big picture, I'm still mapping it out as I go.