The Influence of French Cuisine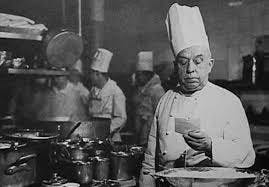 France is known for its cuisine. It's a fact that people travel from all over the world just to eat French foods. From macarons to Bouillabaisse, French food is relished, eaten, and recreated in restaurants all over the globe - including our own. What makes French food so spectacular and special? The glamour of French cuisine paired with the highly skilled chefs that graduate from French culinary school make for a type of food that is seen as trendy and innovative, while still holding close to traditional French cooking methods.
Paris has always been a hub of social, political, and economic activity. It has always been a city painted in romance, where people go to eat delicious food and fall in love over baguettes and brie. However, the history of food in France did not start on such romantic terms. Physical hunger was a factor in the French Revolution, and after the revolution, restaurants began to open which offered food previously only available to aristocrats, to the common man. The rest of the world began to take notice.
In the 1800s, France established a colony in Vietnam and introduced foods that are now an essential part of Vietnamese culture like carrots, lettuce, asparagus, and potatoes. Large coffee plantations were set up, and now coffee is a large part of Vietnamese culture as well. If you have never had a Vietnamese Iced Coffee, we are sorry to say that you may be missing out (for serious caffeine goers only).
Similarly, in Mexico, France established an influence. The French love of wine can still be seen in Mexico, and is traced back to "la comida afrencescada," or, "Frenchified cooking." Arguably, however, the biggest influence from France came in the form of Auguste Escoffier. Escoffier rewrote how modern restaurant cuisine operated. Known as the visionary patriarch of modern cooking, Escoffier streamlined the organization of modern kitchens. His vision inspired restaurant culture in all countries, specifically seen in the United States in the 1970's, when French foods were at their highest peak in popularity.
In our own kitchens, we use organizational methods similar to the ones that Escoffier originated. Specific parts of the kitchen carry out different roles. Think, sous chef. While we do not use the exact methodology originating from Escoffier, kitchens like ours all over the world have adopted their own, smaller systems of organization based on his teachings. Interested in French cuisine, or the history of French influence on global food? We encourage you to do some research, and see how the influence of France has crept into your own kitchen. We guarantee it may be a little more than you think.